'Historic': US surgeons successfully implant pig heart in human******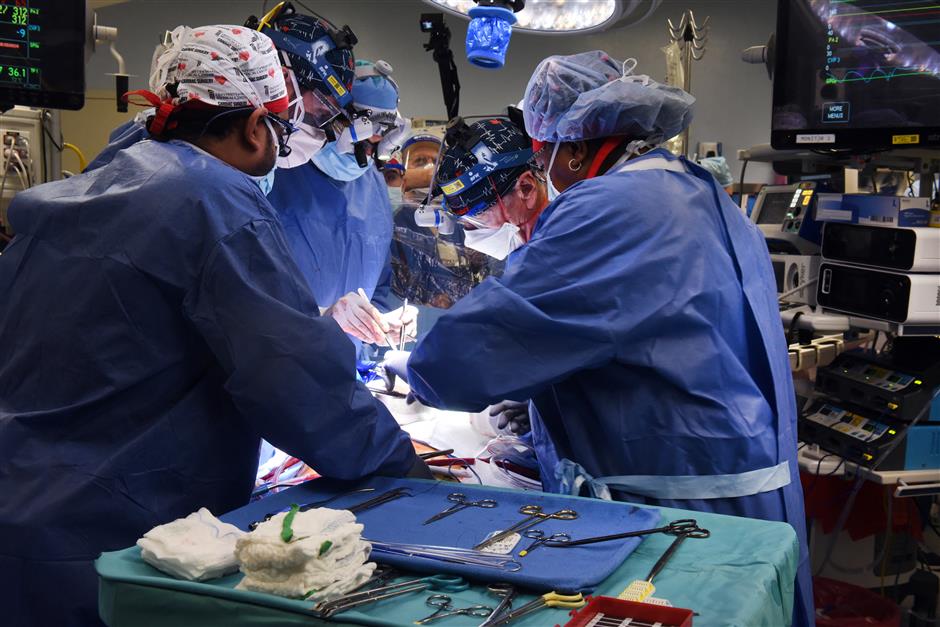 AFP。
This handout photo released by the University of Maryland School of Medicine on Monday shows surgeons performing a transplant of a heart from a genetically modified pig to patient David Bennett, in Baltimore, Maryland, last Friday.。
Surgeons in the United States have successfully implanted a heart from a genetically modified pig in a 57-year-old man, a medical first that could one day help solve the chronic shortage of organ donations.。
The "historic" procedure took place last Friday, the University of Maryland Medical School said in a statement on Monday. While the patient's prognosis is far from certain, it represents a major milestone for animal to human transplantation.。
The patient, David Bennett, had been deemed ineligible for human transplant – a decision that is often taken when the recipient has very poor underlying health.。
He is now recovering and being carefully monitored to determine how the new organ performs.。
"It was either die or do this transplant. I want to live. I know it's a shot in the dark, but it's my last choice," the Maryland resident said a day before the surgery.。
Bennett, who has spent the last several months bedridden on a heart-lung bypass machine, added: "I look forward to getting out of bed after I recover."
The Food and Drug Administration granted emergency authorization for the surgery on New Year's Eve, as a last-ditch effort for a patient who was unsuitable for conventional transplant. "This was a breakthrough surgery and brings us one step closer to solving the organ shortage crisis," said Bartley Griffith, who surgically transplanted the pig heart.。
"We are proceeding cautiously, but we are also optimistic that this first-in-the-world surgery will provide an important new option for patients in the future."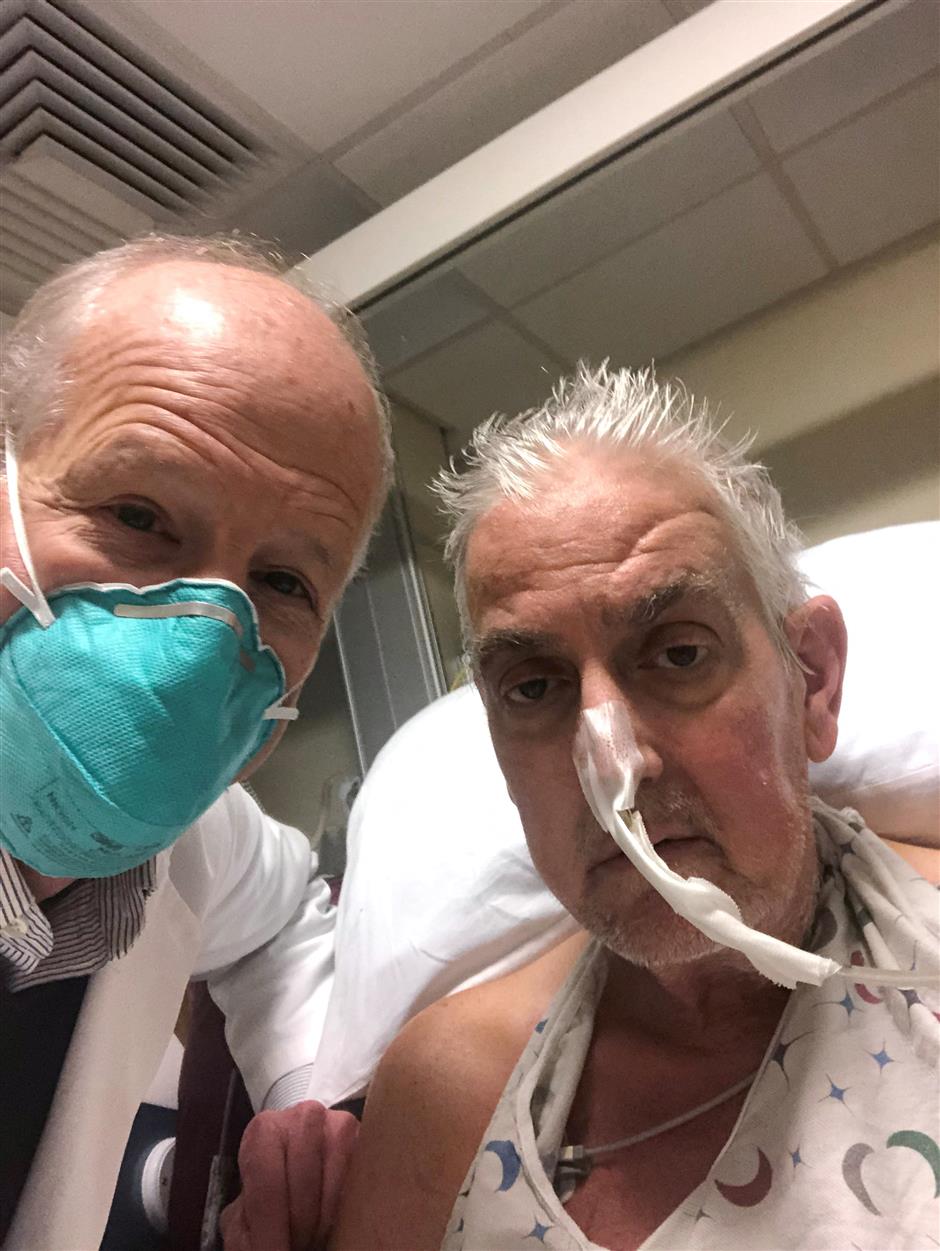 AFP。
Surgeon Dr. Bartley Griffith (L) with patient David Bennett, who received a heart implant from a genetically modified pig, in Baltimore, Maryland.。
Muhammad Mohiuddin, who co-founded the university's cardiac xenotransplantation program, added the surgery was the culmination of years of research, involving pig-to-baboon transplants, with survival times that exceeded nine months.。
"The successful procedure provided valuable information to help the medical community improve this potentially life-saving method in future patients," he said.。
Bennett's donor pig belonged to a herd that had undergone genetic editing procedures.。
Three genes that would have led to rejection of pig organs by humans were "knocked out," as was a gene that would have led to excessive growth of pig heart tissue. Six human genes responsible for human acceptance were inserted into the genome, for a total of 10 unique gene edits.。
The editing was performed by Virginia-based biotech firm Revivicor, which also supplied the pig used in a breakthrough kidney transplant on a brain dead patient in New York in October.。
But while that surgery was purely a proof-of-concept experiment, and the kidney was connected outside the patient's body, the new surgery is intended to save a person's life.。
The donated organ was kept in an organ-preservation machine ahead of the surgery, and the team also used an experimental new drug made by Kiniksa Pharmaceuticals along with conventional anti-rejection drugs to suppress the immune system.。
About 110,000 Americans are currently waiting for an organ transplant, and more than 6,000 patients die each year before getting one, according to official figures.。
To meet demand, doctors have long been interested in so-called xenotransplantation, or cross-species organ donation, with experiments tracing back to the 17th century.。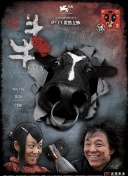 First woman cured of HIV after stem cell transplant******
A US patient with leukemia hasbecome the first woman and the third person to date to be curedof HIV after receiving a stem cell transplant from a donor whowas naturally resistant to the virus that causes AIDS,researchers reported on Tuesday.
The case of a middle-aged woman of mixed races, presented atthe Conference on Retroviruses and Opportunistic Infections inDenver, is also the first involving umbilical cord blood, anewer approach that may make the treatment available to morepeople.
Since receiving the cord blood to treat her acute myeloidleukemia – a cancer that starts in blood-forming cells in thebone marrow – the woman has been in remission and free of thevirus for 14 months, without the need for potent HIV treatmentsknown as antiretroviral therapy.
The two prior cases occurred in males – one white and oneLatino – who had received adult stem cells, which are morefrequently used in bone marrow transplants.
"This is now the third report of a cure in this setting, andthe first in a woman living with HIV," Sharon Lewin,president-elect of the International AIDS Society, said in astatement.
The case is part of a larger US-backed study led by Dr Yvonne Bryson of the University of California Los Angeles(UCLA), and Dr Deborah Persaud of Johns Hopkins University inBaltimore. It aims to follow 25 people with HIV who undergo atransplant with stem cells taken from umbilical cord blood forthe treatment of cancer and other serious conditions.
Patients in the trial first undergo chemotherapy to kill offthe cancerous immune cells. Doctors then transplant stem cellsfrom individuals with a specific genetic mutation in which theylack receptors used by the virus to infect cells.
Scientists believe these individuals then develop an immunesystem resistant to HIV.
Lewin said bone marrow transplants are not a viable strategyto cure most people living with HIV. But the report "confirmsthat a cure for HIV is possible and further strengthens usinggene therapy as a viable strategy for an HIV cure," she said.
The study suggests that an important element to the successis the transplantation of HIV-resistant cells. Previously,scientists believed that a common stem cell transplant sideeffect called graft-vs-host disease, in which the donorimmune system attacks the recipient's immune system, played arole in a possible cure.
"Taken together, these three cases of a cure post stem celltransplant all help in teasing out the various components of thetransplant that were absolutely key to a cure," Lewin said.
【网易红彩彩票-首页👉👉十年信誉大平台,点击进入👉👉 打造国内最专业最具信赖的彩票平台,为您提供网易红彩彩票-首页用户登录全网最精准计划软件,APP下载登陆,强大的竞彩网上推荐!!】
PSG to face Real Madrid in Champions League last 16 after redraw******
PARIS, Dec. 13 (Xinhua) -- Lionel Messi will travel back to Spain and again face old rivals Real Madrid in the Champions League round of 16, after the ties had to be redrawn due to an embarrassing "technical problem" by UEFA on Monday.。
PSG had originally been drawn to face Manchester United - which would have seen an eye-catching showdown between Messi and Cristiano Ronaldo - but UEFA decreed that a "material error" had occurred due to a "technical problem with the software of an external service provider", rendering the draw null and void.。
After the redraw, Manchester United will head to Spain's capital to face Atletico Madrid, while fellow Spanish side Villarreal will take on Italy's Juventus.。
Title holders Chelsea received the same opponents in both draws, as they will take on reigning French Ligue 1 champions Lille.。
German champions Bayern Munich will take on surprise package RB Salzburg of Austria, and Pepe Guardiola's Manchester City will face Sporting Lisbon.。
The other two ties will see Inter Milan face Liverpool and Benfica take on Ajax. Enditem。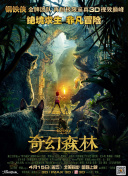 紧急公告!受疫情影响 西安周末这场考试考点有变化******
  10月26日下午,华商报记者从省人事考试中心了解到,根据疫情防控要求,原定2021年度经济初中级电子化考试西安建筑科技大学华清学院考点不能承办本次考试(其他考点不变)。
  经济初中级电子化考试西安建筑科技大学华清学院考点变更为华东万悦城八楼考点,考生无需重新打印准考证,准考证号、考区、考场、座次表不变。考点地址为西安市新城区长乐西路128号华东万悦城八楼。
  给广大考生带来的不便,敬请谅解并积极配合。
  华商报记者 肖琳
来源:华商网-华商报
编辑:报社方正
都怪..总裁!退钱哥模仿C罗庆祝后落水,错失双开门冰箱大奖
1.立秋"撞"中伏,这份养生指南请收好!
2.声动新时代|"人不负青山,青山定不负人"
3.辽宁一水泥罐车疑与火车抢道被撞侧翻 火车车头脱轨,车内有人被困
4.应对湿疹,协和皮肤医生支招"四法宝"